BIOCLEAR TwinRing
150.00EGP – 4,400.00EGP
BIOCLEAR TwinRing – Sectional Matrix Rings
Bioclear sectional matrix system number 1 over the world
Made in the USA
The Twin Ring is designed to be used in sectional Class II matrix adaptation and can be used with any matrix.
Made of two NiTi wires; The structural design of the Twin Ring causes it to have excellent form memory; it is guaranteed to retain its original shape without deformity, even after hundreds of uses.
The unique design allows the Twin Ring to adapt to a variety of tooth types and shapes. The round cross-section of the ring allows the application of a strong, even tension that:
assists in the separation of the teeth
creates a strong seal with the matrix without collapsing the matrix into the cavity
and doesn't allow the composite to flow past the gingival margin which eliminates line angle overhangs.
A graph showing the difference between TwinRing yellow and purple separation power and other products' separation power after 25 uses concludes that the yellow TwinRing has more separation power than any other product.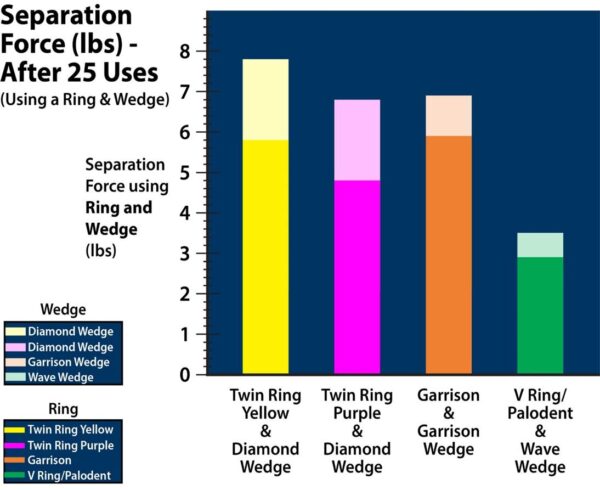 A Tetra ring
Is a plastic ring.
Can be used where maximum separation is not required.
It has four independent hands that pivot in three dimensions and seal off the line angles with pressure on the gingival margin.
The clear hands allow for light to pass through the ring, Increasing your confidence of full polymerization of your composite.
| | |
| --- | --- |
| usage | Molar (Purple), Premolar (Yellow), Tetra ring |
Only logged in customers who have purchased this product may leave a review.